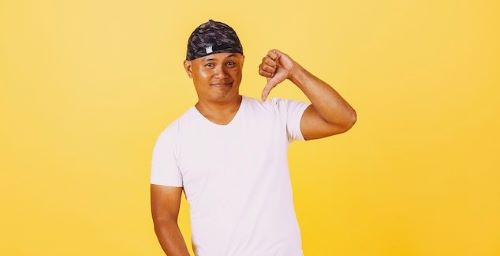 "Tegenvallen" is makkelijker naar het Engels te vertalen dan "meevallen" want in dit geval hebben we het woord "to be disappointed" (= teleurgesteld zijn) of "to disappoint" (teleurstellen, teleurstellend zijn) wat vaak goed past. Is wel wat minder spreektaal dan "tegenvallen".
"To not live up to your expectations" vind ik ook een goeie.
Ik dacht dat het feest heel leuk zou zijn, maar dat viel tegen.
I went to the party thinking it was going to be fun, but I was disappointed.

The party didn't live up to my expectations.

The party turned out to be less fun than I was expecting.

I thought the party was going to be fun, but it wasn't.
De smaak valt tegen.
The flavour is disappointing.

The flavour doesn't live up to my expectations.

The flavour is underwhelming. (tikkie minder erg dan "valt tegen")
Door de tegenvallende resultaten was iedereen in mineur.
Everyone was in a bad mood because the results were worse than expected.

The underwhelming results were a let-down for everybody.

The company's underperformance put everyone in a bad mood.

The worse-than-expected results put everyone in a bad mood. (kan, als het moet, Wel erg lelijk, liever de zin omformuleren!)
De winst zou tegen kunnen vallen.
The profits might disappoint.

Profits could be lower than projected.
Dank aan de vragensteller!
Dit artikel is geschreven n.a.v. een vraag op mijn contactpagina van Mark. Bedankt Mark! Heb jij een woord of uitdrukking waarvan je altijd denkt "hoe zeg ik dat in het Engels?" laat het me dan hieronder weten, of op mijn contactpagina.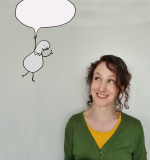 Heddwen Newton is an English teacher and a translator from Dutch into English. She thinks about languages way too much, for example about how strange it is that these little blurb things are written in the third person.

Heddwen has two passports, two children, two smartphones, two arms, two legs, and two email newsletters.

Reader feedback for the newsletter English and the Dutch, which examines all the ways Dutch speakers interact with the English language.
"It's funny, it's informative, I truly love it! Keep it up :)"
"It is amusing and funny but also educational. Bonus: it's about real life situations."
"Weer wat leuke dingen geleerd en erg gelachen om het filmpje!"
Reader feedback about the other newsletter, English in Progress, which is about how the English language is evolving and how it is spoken around the world:
"Wonderful work! I thoroughly enjoy these newsletters, and use some of the info while teaching English to my students."
"Love the variety, and the friendly informal tone!"
Also, academic Lynne Murphy, author of The Prodigal Tongue, about the differences between American and British English, recommended my newsletter in her newsletter. I was chuffed (BrE) and stoked (AmE)!
Meer lezen? GA NAAR EEN WILLEKEURIG ARTIKEL
Disclaimer: deze site is geen woordenboek. Mijn vertalingen zijn de meningen van één mens, en mijn voorbeelden zijn zelfverzonnen. Meer weten? Kijk dan bij de veelgestelde vragen.
Bron foto: Gustavo Fring, Pexels