Wat is een profielwerkstuk?
Sinds pak hem beet 2000 maken havo en vwo scholieren in hun examenjaar een profielwerkstuk waarin ze, meestal in tweetallen, een onderzoek doen en een werkstuk schrijven over een onderwerp dat ze zelf mogen kiezen. "Profiel" verwijst naar het profiel van vakken dat ze volgen (Natuur en Gezondheid, Natuur en Techniek, Cultuur en Maatschappij of Economie en Maatschappij), het gekozen onderwerp dient bij het profiel te passen.
Vertalingen die ik niet goed vind
Profiel is volgens het Nuffic "subject cluster" en een werkstuk vertalen we meestal met "paper". Maar als je die twee combineert en "subject cluster paper" zegt, dan zal naar mijn mening geen Engelstalige begrijpen waar je het over hebt.
Ook "profile paper", een term die binnen (tweetalige) scholen regelmatig gebruikt wordt, is alleen betekenisvol als je wéét wat het woord profile in deze context betekent. Een Engelstalige die niet bekend is met het Nederlandse onderwijssysteem zal denken dat het om een biografie gaat, want "profile" is meestal een korte beschrijving van een persoon, bijvoorbeeld op een CV of in een krant.
Hoe vertaal je "profielwerkstuk" het beste naar het Engels?
Ik vind de vertaling "school research project" het mooist. Het is geen letterlijke vertaling, maar het dekt op een korte manier de lading zodanig dat een buitenlander een goed idee zal hebben wat het werkstuk inhoudt.
En anders moet je het uitleggen: "a collaborative research paper written in the last year of pre-university education".
Niet met me eens? Of een andere vraag? Laat het me weten in de comments!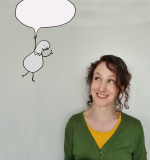 Heddwen Newton is an English teacher and a translator from Dutch into English. She has two email newsletters:
English and the Dutch is for Dutch speakers looking to improve their English, but also for near-native speakers who write, translate into, or teach English. Also interesting for people who like to compare Dutch-speaking culture to everybody else in the world.
English in Progress keeps English speakers up to date on the latest developments in the English language. Subscribers are mostly academics, English teachers, translators and writers.
Meer lezen? GA NAAR EEN WILLEKEURIG ARTIKEL
Disclaimer: deze site is geen woordenboek. Mijn vertalingen zijn de meningen van één mens, en mijn voorbeelden zijn zelfverzonnen. Meer weten? Kijk dan bij de veelgestelde vragen.