Wat betekent het?
Als je verwachtte dat iets niet goed zou gaan, of zou tegenvallen, en dan blijkt het toch goed te gaan, dan ben je positief verrast. Een docent die de klas uitloopt, en dan vijf minuten later terugkomt en iedereen is nog steeds rustig aan het werk, zou bijvoorbeeld best eens positief verrast kunnen zijn 🙂
Welke vertalingen vind ik niet zo goed?
Online woordenboeken en machinevertalingen geven "positively surprised". Dit is geen goede vertaling omdat het iets anders betekent, namelijk "echt verrast" of "heel erg verrast". (Denk bijvoorbeeld aan "It was positively awful"= "Het was echt heel vreselijk" of "I'm positively starving"= "ik heb superveel honger")
"Surprised, but in a good way" zou kunnen maar is geen standaard Engels.
Hoe vertaal je "positief verrast zijn" het beste naar het Engels?
De Engelse term is "pleasantly surprised".
De klas is nog steeds rustig. Ik ben positief verrast!
The class is still quiet. What a pleasant surprise!
The class is still quiet. I'm pleasantly surprised!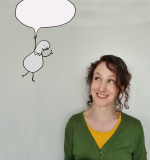 Heddwen Newton is an English teacher and a translator from Dutch into English. She has two email newsletters:
English and the Dutch is for Dutch speakers looking to improve their English, but also for near-native speakers who write, translate into, or teach English. Also interesting for people who like to compare Dutch-speaking culture to everybody else in the world.
English in Progress keeps English speakers up to date on the latest developments in the English language. Subscribers are mostly academics, English teachers, translators and writers.
Meer lezen? GA NAAR EEN WILLEKEURIG ARTIKEL
Disclaimer: deze site is geen woordenboek. Mijn vertalingen zijn de meningen van één mens, en mijn voorbeelden zijn zelfverzonnen. Meer weten? Kijk dan bij de veelgestelde vragen.