Wat betekent het?
Als je met iemand op gespannen voet staat, leeft of verkeert, dan hangt er negativiteit in de lucht en kan er elk moment ruzie ontstaan. Op het ogenblik leef of werk je nog met elkaar zo goed als het kan, maar het is zeker niet vriendschappelijk.
Het tegenovergestelde is "op vriendschappelijke voet".
Wat is het probleem?
Een letterlijke vertaling is niet mogelijk, iets van *on a tense foot* zal niemand begrijpen. Verder is dit het soort uitdrukking dat Nederlanders nog al eens gebruiken op een andere manier dan hierboven staat. Zo zag ik ergens staan "de continuïteit van het bedrijf staat op gespannen voet". Dat is een andere betekenis dan die hierboven en daar moet je in de vertaling rekening mee houden (in dit geval zou ik kiezen voor "is on shaky ground").
Hoe vertaal je "op gespannen voet" het beste naar het Engels?
Woordenboeken geven "to be at odds with" (=het niet met elkaar eens zijn). Dat is een goede vertaling als er één conflict speelt, maar vaak wordt "op gespannen voet" gebruikt om aan te geven dat de relatie in zijn algemeen niet goed is, en dan past het niet, vind ik.
Een "feud" is een langdurige en bittere ruzie, een tikkeltje heftiger dan "op gespannen voet" dus. Het wordt vooral bij familieruzies gebruikt.
Ik leef op gespannen voet met mijn buurman.
I have a tense relationship with my neighbour.
I have an uneasy relationship with my neighbour.
Me and my neighbour don't get along.
There is a lot of tension between my neighbour and me.

De zussen staan op gespannen voet met elkaar.
The sisters have a difficult relationship.
The sisters have a strained relationship.
The sisters have a long-standing feud.
In hoeverre staan deze regels op gespannen voet met de huidige gang van zaken?
To what extent are these rules at odds with the current situation?

Heb je een moeilijk te vertalen woord?
Is er een woord of uitdrukking waarvoor je geen goede Engelse vertaling kunt vinden? Laat het me weten op mijn contactpagina, en ik probeer zo snel mogelijk te reageren.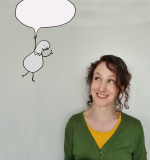 Heddwen Newton is an English teacher and a translator from Dutch into English. She has two email newsletters:
English and the Dutch is for Dutch speakers looking to improve their English, but also for near-native speakers who write, translate into, or teach English. Also interesting for people who like to compare Dutch-speaking culture to everybody else in the world.
English in Progress keeps English speakers up to date on the latest developments in the English language. Subscribers are mostly academics, English teachers, translators and writers.
Meer lezen? GA NAAR EEN WILLEKEURIG ARTIKEL
Disclaimer: deze site is geen woordenboek. Mijn vertalingen zijn de meningen van één mens, en mijn voorbeelden zijn zelfverzonnen. Meer weten? Kijk dan bij de veelgestelde vragen.