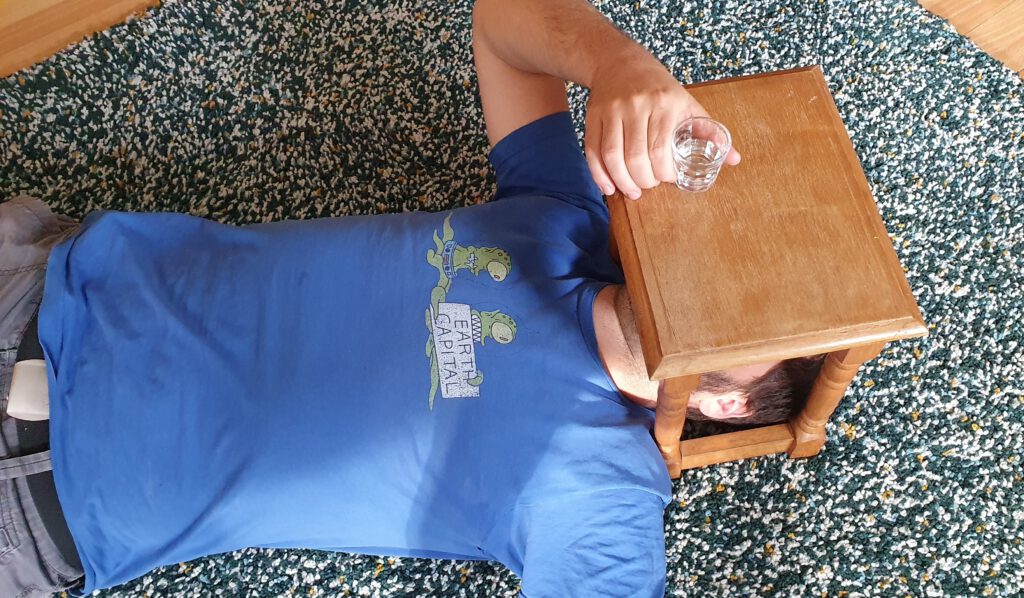 "Iemand onder tafel drinken" (of onder de tafel drinken) klinkt zo Nederlands dat het mensen vaak verrast om te leren dat je het ook gewoon in het Engels kunt zeggen: "to drink someone under the table".
Het is een heel oud gezegde en ook heel normaal in het Engels. Andere mogelijke vertalingen naar het Engels zijn er niet echt, of je moet het echt helemaal gaan omschrijven, iets als "I can hold my drink much better than him, so when we went out he got really drunk really quickly while I was fine even though I was drinking the same amount of alcohol".
It does not, how shall we say it, roll off the tongue.
Wat betekent "iemand onder de tafel drinken"?
Als je iemand onder de tafel drinkt dan drink je dezelfde hoeveelheid alcohol, maar jij kunt er veel beter tegen, dus je partner ligt (figuurlijk) bewusteloos onder tafel terwijl het met jou nog prima gaat.
Welke vertalingen vind ik niet zo goed?
"To outdrink someone" betekent niet dat je beter tegen alcohol kunt, het betekent gewoon dat je meer en sneller drinkt. Kan in sommige gevallen toch een goede vertaling zijn, maar betekent dus niet helemaal hetzelfde.
Heddwen Newton is docent en vertaler Engels.
Disclaimer: deze site is geen woordenboek. Mijn vertalingen zijn de meningen van één mens, en mijn voorbeelden zijn zelfverzonnen. Meer weten? Kijk dan bij de veelgestelde vragen.
Bron foto: eigen werk (jaja, je ziet het meteen aan die enorme kwaliteit). Gebruiken mag, wel graag met verwijzing naar deze site.