Het is geen *ant f#cking* , dat had je zelf ook wel verzonnen, maar wat is mierenneuken, muggenziften en haarkloven dan wel in het Engels?
Als je alle kleine details wilt verbeteren, dan zeg je in het Engels "to nitpick" (= luizen pluizen), "to split hairs" (= haarkloven). Andere vertalingen zijn "to carp" (= blijven klagen over kleine dingen) of "to quibble" (= discussiëren over kleine dingen die er niet toe doen).
Ik heb het idee dat de term "to split hairs" op het ogenblik erg populair is, ik hoor het erg vaak bij Engelstalige podcasts en dergelijke.
Wat Engelstaligen ook vaak zeggen tegen muggenzifters is "that's just semantics". Zij vinden dan dat de ander teveel focus legt op de woordenboekbetekenis van een woord of term, terwijl het hun meer om de diepere betekenis gaat.
Ga nou niet mierenneuken over elk woordje in dat contract, Piet, en zet je handtekening er gewoon onder.
Don't start quibbling over each word in that contract, Piet, and just sign it.
Ik wil nog een punt maken. Misschien is het wat muggenzifterig van me, maar ik vind het belangrijk.
I would like to make one more point. Perhaps it is splitting hairs, but I think it is important.

(…) Perhaps it is a bit nitpicky (…)
"Maar dat staat helemaal niet in het eerste amendement."
"Ach, je bent aan het mierenneuken."
"But that's not what the first amendment says."
"That's just semantics."
Echt, hou op met muggenziften over elke fout die je leerlingen maken. Het zijn ook maar mensen.
Stop carping about every little mistake your students make. They're only human. (= hij klaagt erover)

Stop nitpicking at every little mistake (…). (= hij verbetert elk foutje)
Deze vertalingen vind ik niet zo goed
Ik heb "to carp" er hierboven tussengezet, maar het is niet mijn favoriet, omdat "to carp on about something" betekent dat je de hele tijd over iets doorzeurt, niet per se iets kleins. Die betekenis is voor mijn gevoel veel bekender, maar dat kan ook aan mij liggen.
Ben je Engelstalig en heb je een mening over "to carp"? Laat het me hieronder weten!
Het woordenboek geeft ook "to cavil" maar dat is een erg onbekend woord, ik zou het niet gebruiken, zeker aangezien er zoveel andere opties zijn.
Heb je een moeilijk te vertalen woord?
Is er een woord of uitdrukking waarvoor je geen goede Engelse vertaling kunt vinden? Laat het me weten op mijn contactpagina, en ik probeer zo snel mogelijk te reageren.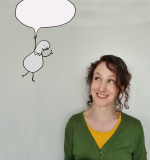 Heddwen Newton is an English teacher and a translator from Dutch into English. She has two email newsletters:
English and the Dutch is for Dutch speakers looking to improve their English, but also for near-native speakers who write, translate into, or teach English. Also interesting for people who like to compare Dutch-speaking culture to everybody else in the world.
English in Progress keeps English speakers up to date on the latest developments in the English language. Subscribers are mostly academics, English teachers, translators and writers.
Meer lezen? GA NAAR EEN WILLEKEURIG ARTIKEL
Disclaimer: deze site is geen woordenboek. Mijn vertalingen zijn de meningen van één mens, en mijn voorbeelden zijn zelfverzonnen. Meer weten? Kijk dan bij de veelgestelde vragen.
Bron foto: Paul Knut, Pexels