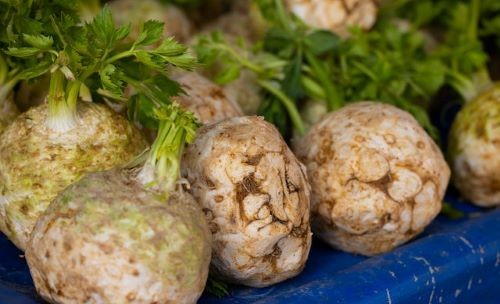 Na de moeilijk-te-vertalen andijvie van gisteren gun ik me vandaag een groente die minder lastig naar het Engels te vertalen is: de knolselderij. Het Engelse woord voor deze knol is "celeriac". Misschien is een andere benaming echter beter, omdat deze groente niet overal even bekend is.
Knolselderij is in het Verenigd Koninkrijk een bekende en veelgegeten groente. Daar kennen ze het woord "celeriac" dus wel.
Maar in andere landen, zoals de Verenigde Staten, is deze knol minder bekend. Ik ben daarom ook wel te spreken over de andere naam: "celery root". "Celery" (selderij) kennen Amerikanen namelijk wél, en met "celery root" druk je mooi uit dat de knolselderij de wortel van de selderij is (want dat is zo, voor het geval je het niet wist 😉 ).
Deze vertalingen vind ik niet zo goed
Andere vertalingen volgens Wikipedia zijn "knob celery" en "turnip-rooted celery". Deze woorden zijn volgens mij nogal ouderwets, en bovendien hebben beide een probleem: Die eerste zal in de UK grappig gevonden worden, want "knob" is daar ook wel slang voor een dom iemand, en een "turnip" is een knolraap, dat is dus iets anders.
Heb je een moeilijk te vertalen woord?
Is er een woord of uitdrukking waarvoor je geen goede Engelse vertaling kunt vinden? Laat het me weten op mijn contactpagina, en ik probeer zo snel mogelijk te reageren.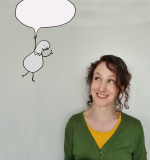 Heddwen Newton is an English teacher and a translator from Dutch into English. She has two email newsletters:
English and the Dutch is for Dutch speakers looking to improve their English, but also for near-native speakers who write, translate into, or teach English. Also interesting for people who like to compare Dutch-speaking culture to everybody else in the world.
English in Progress keeps English speakers up to date on the latest developments in the English language. Subscribers are mostly academics, English teachers, translators and writers.
Meer lezen? GA NAAR EEN WILLEKEURIG ARTIKEL
Disclaimer: deze site is geen woordenboek. Mijn vertalingen zijn de meningen van één mens, en mijn voorbeelden zijn zelfverzonnen. Meer weten? Kijk dan bij de veelgestelde vragen.
Bron foto: Engin Akyurt, Pexels