Wat betekent het?
Een grens trekken, een grens stellen of een grens aangeven: in dit artikel wil ik het hebben over de figuurlijke betekenis van grenzen trekken. Iemand doet iets dat je niet zo tof vindt en je zegt tegen hem of haar: tot hier en niet verder.
Bijvoorbeeld:
Op mijn werk maakten mensen vroeger vaak grapjes over mijn uiterlijk maar toen ze het over mijn huidskleur begonnen te hebben, heb ik een grens getrokken en gezegd dat dat niet okee was.
Nadat een aantal feesten uit de hand zijn gelopen heeft de gemeenteraad een grens getrokken. Mensen die de regels niet respecteren en met alcohol over straat gaan krijgen vanaf nu een flinke boete.
Wat is het probleem?
Online woordenboeken zijn gebaseerd op bestaande vertalingen en blijkbaar is het met "grenzen trekken" nogal eens misgegaan want ik zie wat rare vertalingen online. Iets met "borders" (landsgrenzen) werkt bijvoorbeeld niet, tenzij je het letterlijk over het trekken van landsgrenzen hebt.
Hoe vertaal je "een grens trekken" naar het Engels?
Je kunt zeggen "to draw a line" of "to set boundaries". De eerste is een tikkeltje emotioneler (tot hier en niet verder!) en de tweede wat neutraler en algemener.
("To draw the line" is nog weer een tikkeltje heftiger. Dan ben je er helemaal klaar mee.)
| | |
| --- | --- |
| Ik heb een grens getrokken en gezegd dat dat gedrag niet okee was. | I drew a line and told them that that behaviour was not okay. |
| De gemeenteraad een grens getrokken, vanaf nu geldt er een boete. | The local council has drawn a line; people breaking the rules will be fined from now on. |
| Bij kleine kinderen is het belangrijk grenzen te stellen. | It's important to set boundaries when dealing with small children. |
| Nu heb ik er genoeg van. Hier trek ik mijn grens. | Now I've had enough. I'm drawing the line. |
Heb je een moeilijk te vertalen woord?
Is er een woord of uitdrukking waarvan je altijd denkt "Hoe zeg je dat nou eigenlijk in het Engels?". Laat het me weten in een comment. Dat kan gewoon hier of op mijn contactpagina.
Dit artikel is geschreven n.a.v. een vraag van Debbie. Bedankt Debbie!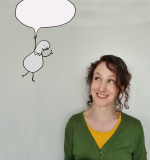 Heddwen Newton heeft intussen al 555 woorden en uitdrukkingen behandeld op hoezegjeinhetEngels.nl. Voor 2 Euro kun je haar daarvoor bedanken. Heddwen is docent en vertaler Engels.
Disclaimer: deze site is geen woordenboek. Mijn vertalingen zijn de meningen van één mens, en mijn voorbeelden zijn zelfverzonnen. Meer weten? Kijk dan bij de veelgestelde vragen.