Een grens trekken, een grens stellen of een grens aangeven: in dit artikel wil ik het hebben over de figuurlijke betekenis van grenzen trekken. Iemand doet iets dat je niet zo tof vindt en je zegt tegen hem of haar: tot hier en niet verder. Eigenlijk is de vertaling naar het Engels niet zo lastig, en hij wordt ook populairder, heb ik het idee.
De letterlijke Engelse vertaling is "to set boundaries" of "to put down boundaries". Een paar jaar geleden vond ik dit nog wat stroef klinken in het Engels, maar intussen heb ik het ettelijke keren zien langskomen waardoor het me nu prima klinkt. Zo gaat dat, met taal. Zie bv deze adviescolumn in The Guardian.
Je kunt ook zeggen "to draw a line". Dat is wat emotioneler. "Tot hier en niet verder!"
"To draw the line" is nog weer een tikkeltje heftiger. Dan ben je er helemaal klaar mee.
Ik heb een grens getrokken en gezegd dat dat gedrag niet okee was.
I have put down boundaries and told them that their behaviour was not okay.

I drew a line and told them that that behaviour was not okay.
De gemeenteraad een grens getrokken, vanaf nu geldt er een boete.
The local council has drawn a line; people breaking the rules will be fined from now on.
Bij kleine kinderen is het belangrijk grenzen te stellen.
It's important to set boundaries when dealing with small children.

Boundary-setting is important when dealing with small children.
Nu heb ik er genoeg van. Hier trek ik mijn grens.
Now I've had enough. I'm drawing the line.
Deze vertalingen liever niet
Iets met "borders" (landsgrenzen) werkt niet, tenzij je het letterlijk over het trekken van landsgrenzen hebt.
Heb je een moeilijk te vertalen woord?
Is er een woord of uitdrukking waarvan je altijd denkt "Hoe zeg je dat nou eigenlijk in het Engels?". Laat het me weten in een comment. Dat kan gewoon hier of op mijn contactpagina.
Dit artikel is geschreven n.a.v. een vraag van Debbie. Bedankt Debbie!
Dit artikel uit januari 2021 heb ik in maart 2023 herschreven en opnieuw gepubliceerd.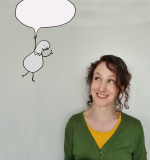 Heddwen Newton is an English teacher and a translator from Dutch into English. She thinks about languages way too much, for example about how strange it is that these little blurb things are written in the third person.

Heddwen has two passports, two children, two smartphones, two arms, two legs, and two email newsletters.

Reader feedback for the newsletter English and the Dutch, which examines all the ways Dutch speakers interact with the English language.
"It's funny, it's informative, I truly love it! Keep it up :)"
"It is amusing and funny but also educational. Bonus: it's about real life situations."
"Weer wat leuke dingen geleerd en erg gelachen om het filmpje!"
Reader feedback about the other newsletter, English in Progress, which is about how the English language is evolving and how it is spoken around the world:
"Wonderful work! I thoroughly enjoy these newsletters, and use some of the info while teaching English to my students."
"Love the variety, and the friendly informal tone!"
Also, academic Lynne Murphy, author of The Prodigal Tongue, about the differences between American and British English, recommended my newsletter in her newsletter. I was chuffed (BrE) and stoked (AmE)!
Meer lezen? GA NAAR EEN WILLEKEURIG ARTIKEL
Disclaimer: deze site is geen woordenboek. Mijn vertalingen zijn de meningen van één mens, en mijn voorbeelden zijn zelfverzonnen. Meer weten? Kijk dan bij de veelgestelde vragen.
Bron foto: Andrea Piacquadio, Pexels