Wat betekent "geniaal"?
Als een mens geniaal is, dan is hij/zij heel erg slim. Als een idee geniaal is, dan is het een heel goed idee.
Wat is het probleem?
Het Nederlandse "geniaal" is een false friend met het Engelse "genial". Die woorden lijken op elkaar, maar betekenen iets heel anders. Het Engelse "genial" betekent vriendelijk, hartelijk, gemoedelijk. "Genial weather" is mooi, zonnig weer.
Ik zie tot mijn schrik in online woordenboeken toch vaak het woord genial vertaald als geniaal. Dat is echt fout. Deze foute vertaling komt deels doordat online woordenboeken hun gegevens van online vertalingen halen, en vertalers maken weleens fouten. Een andere reden is dat het woord "genial" in oude literatuur nog weleens "geniaal" kan betekenen, maar in modern Engels kan dat echt niet meer.
Hoe vertaal je "geniaal" het beste naar het Engels?
De beste vertaling is "brilliant". Bij een idee kun je het ook over "ingenious" hebben, dan is het niet alleen geniaal, maar ook origineel.
Heb je een moeilijk te vertalen woord?
Is er een woord of uitdrukking waarvoor je geen goede Engelse vertaling kunt vinden? Laat het me weten op mijn contactpagina, en ik probeer zo snel mogelijk te reageren.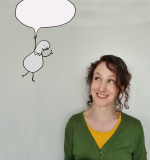 Heddwen Newton is an English teacher and a translator from Dutch into English. She has two email newsletters:
English and the Dutch is for Dutch speakers looking to improve their English, but also for near-native speakers who write, translate into, or teach English. Also interesting for people who like to compare Dutch-speaking culture to everybody else in the world.
English in Progress keeps English speakers up to date on the latest developments in the English language. Subscribers are mostly academics, English teachers, translators and writers.
Meer lezen? GA NAAR EEN WILLEKEURIG ARTIKEL
Disclaimer: deze site is geen woordenboek. Mijn vertalingen zijn de meningen van één mens, en mijn voorbeelden zijn zelfverzonnen. Meer weten? Kijk dan bij de veelgestelde vragen.