Een korte tip vandaag; een klein spellingsdingetje die vaak misgaat en waar fijn genoeg een goede 100% regel voor te geven is. Die regel gaat zo:
"full" (vol) heeft twee l-en, maar alle woorden die eindigen op "ful" hebben er maar ééntje.
Wonderful, suspenseful, helpful, painful, harmful, hopeful, playful, successful, grateful, thankful etc etc. Altijd maar één l aan het eind!
De verwarring komt waarschijnlijk omdat
1) het woord "full" in z'n eentje twee l-en heeft, dus is het volledig logisch dat je zou denken dat die twee l-en behouden blijven als je de "full" ergens aan vastplakt.
2) Als je "ball" ergens aan vastplakt, blijft de spelling wel met twee l-en. Basketball, football, racketball…
Waarom is het zo? Omdat Engelse spelling kut is, daarom. En daar zijn Engelstaligen het ook gewoon mee eens 🙂
Okee, ik houd van échte antwoorden. Ik heb even gekeken en het lijkt erop dat de extra l is weggeknipt door vroege boekdrukkers in de late middeleeuwen die letters wilden sparen. Een woord als "basketball" is veel moderner en tegen die tijd was het drukken van boeken en kranten veel makkelijker geworden, en was het niet meer nodig om een letter weg te knippen. (Dit is mijn theorie, tenminste. Als een taalkundige hier een mening over heeft dan hoor ik het graag!)
Hoe het ook zij, het "[word]ful" regeltje is een vrij makkelijk te onthouden regel in een zee van idiote Engelse spelling. Ik hoop dat jullie er wat aan hebben!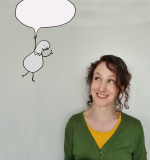 Heddwen Newton is an English teacher and a translator from Dutch into English. She has two email newsletters:
English and the Dutch is for Dutch speakers looking to improve their English, but also for near-native speakers who write, translate into, or teach English. Also interesting for people who like to compare Dutch-speaking culture to everybody else in the world.
English in Progress keeps English speakers up to date on the latest developments in the English language. Subscribers are mostly academics, English teachers, translators and writers.
Meer lezen? GA NAAR EEN WILLEKEURIG ARTIKEL