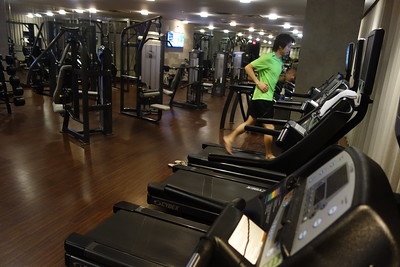 Wat betekent het?
Het werkwoord "fitnessen" komt van het Engelse zelfstandig naamwoord "fitness" dat in dit geval iets van "lichamelijke kracht en gezondheid" betekent.
Als je aan fitnessen doet dan ga je naar de fitness studio/ fitnessclub/ sportschool waar je met apparaten aan je fysieke conditie werkt. Andere soorten sport worden in principe niet "fitnessen" genoemd, het gaat echt om het sporten in een fitness studio (of in ieder geval het soort machines die je daar hebt, maar dan bijvoorbeeld thuis).
Leuk weetje: fitness kan ook "geschiktheid" betekenen ("how well something fits"), en dat is waar Darwin het over heeft als hij zegt "survival of the fittest". Dat betekent "zij die het beste in hun omgeving passen zullen overleven" en NIET *de sterksten zullen overleven*. Maar dat terzijde.
Wat is het probleem?
In het Engels kan het woord "fitness" geen werkwoord zijn. *to fitness* bestaat niet (al zullen mensen wel snappen wat je bedoelt, denk ik, maar het klinkt raar).
Hoe vertaal je "fitnessen" het beste naar het Engels?
De beste vertaling is "to work out". Andere opties zijn: "to go to the gym", "to exercise (at the gym/ fitness studio)", "to train", "to stay in shape", "to keep fit".
NB een fitness studio wordt in het Engels meestal een "gym" genoemd. Wij denken bij dat woord aan de gymzaal op school, maar zij denken echt aan een sportschool met apparaten. "Fitness studio" en "fitness club" zijn echter ook gebruikte termen.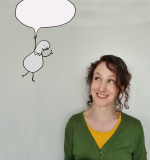 Heddwen Newton is an English teacher and a translator from Dutch into English. She has two email newsletters:
English and the Dutch is for Dutch speakers looking to improve their English, but also for near-native speakers who write, translate into, or teach English. Also interesting for people who like to compare Dutch-speaking culture to everybody else in the world.
English in Progress keeps English speakers up to date on the latest developments in the English language. Subscribers are mostly academics, English teachers, translators and writers.
Meer lezen? GA NAAR EEN WILLEKEURIG ARTIKEL
Disclaimer: deze site is geen woordenboek. Mijn vertalingen zijn de meningen van één mens, en mijn voorbeelden zijn zelfverzonnen. Meer weten? Kijk dan bij de veelgestelde vragen.