Wat betekent "drie keer is scheepsrecht"?
"Drie keer is scheepsrecht" of "driemaal is scheepsrecht" (kan beide ook zonder die "is") betekent dat iets wat twee keer niet is gelukt, de derde keer vast wel zal lukken.
Waar de uitdrukking (waarschijnlijk) vandaan komt, lees je hier.
Hoe vertaal je "driemaal is scheepsrecht" naar het Engels?
In het Engels hebben we het niet over de juridische situatie op een boot, maar we hebben wél een uitdrukking die hetzelfde betekent en op dezelfde manier gebruikt wordt, namelijk: "third time's the charm". (Het is niet helemaal duidelijk wat "charm" hier betekent, maar ik vat het op als "de derde keer is het tovermiddel".)
Je hebt hem in een aantal variaties, die allemaal prima zijn:
Third time's the charm
Third time's a charm
Three time's a charm
The third time is the charm
Dan heb je ook nog "third time lucky", maar je hebt in het Engels ook "second time lucky" dus daar moet je mee opletten.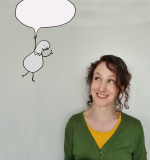 Heddwen Newton is an English teacher and a translator from Dutch into English. She has two email newsletters:
English and the Dutch is for Dutch speakers looking to improve their English, but also for near-native speakers who write, translate into, or teach English. Also interesting for people who like to compare Dutch-speaking culture to everybody else in the world.
English in Progress keeps English speakers up to date on the latest developments in the English language. Subscribers are mostly academics, English teachers, translators and writers.
Meer lezen? GA NAAR EEN WILLEKEURIG ARTIKEL
Disclaimer: deze site is geen woordenboek. Mijn vertalingen zijn de meningen van één mens, en mijn voorbeelden zijn zelfverzonnen. Meer weten? Kijk dan bij de veelgestelde vragen.