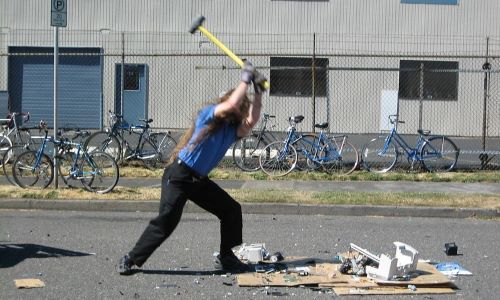 "Doorslaggevend" is vaak niet zo moeilijk naar het Engels te vertalen. In de meeste gevallen is de vertaling "decisive". Soms past die vertaling echter niet, en dan wordt het lastiger. Hieronder wat opties.
Uiteindelijk was ons kleine budget de doorslaggevende factor.
In the end, our limited budget was the decisive factor.

In the end, it was our limited budget that sealed the deal.
Ik betaal de vakantie, dus mijn stem is doorslaggevend.
I'm paying for the holiday, so I get the deciding vote.
Dit punt is wel belangrijk, maar niet doorslaggevend.
It's an important point, but not decisive. (= ik ga nav dit punt mijn beslissing niet veranderen)

It's an important point, but not conclusive. (=er bestaat nog steeds twijfel over de waarheid)

It's an important point, but it does not settle the issue. (= er bestaat nog steeds twijfel over wat het beste is)
Dat was het doorslaggevende argument.
That was the clinching argument. (= het argument waardoor de discussie werd gewonnen)

That was the overriding argument. (= het belangrijkste argument)

That was the conclusive argument. (= het argument waardoor er geen twijfel meer was over de waarheid)
Deze bijeenkomst is van doorslaggevend belang.
This meeting is of crucial importance.

This meeting is of key importance.

This meeting is of fundamental importance.

This meeting is of paramount importance.

This meeting is of vital importance.
Bedoel je "heel belangrijk" of bedoel je "beslissend"?
Ik vind dat doorslaggevend te vaak vertaald wordt met iets van "crucial" of "vital" of "pivotal". De betekenissen liggen heel dicht bij elkaar, maar ik vind iets dat "heel belangrijk" (crucial) is, niet altijd hetzelfde als iets dat "doorslaggevend" is.
Ik heb het verschil in mijn tabel hierboven duidelijk proberen te maken door de betekenis "heel belangrijk" in de laatste rij te zetten.
Ben je een Engelste tekst aan het schrijven? Denk dan even goed na over wat je precies met het woord "doorslaggevend" wil zeggen. Wil je alleen uitdrukken dat iets heel belangrijk is? Kies dan een woord uit de laatste rij. Wil je uitdrukken dat die ene factor het verschil maakt, de doorslag geeft? Kies dan "decisive" of eventueel een van de andere optie uit de vier rijen daarboven.
Heb je een moeilijk te vertalen woord?
Is er een woord of uitdrukking waarvoor je geen goede Engelse vertaling kunt vinden? Laat het me weten op mijn contactpagina, en ik probeer zo snel mogelijk te reageren.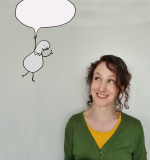 Heddwen Newton is an English teacher and a translator from Dutch into English. She has two email newsletters:
English and the Dutch is for Dutch speakers looking to improve their English, but also for near-native speakers who write, translate into, or teach English. Also interesting for people who like to compare Dutch-speaking culture to everybody else in the world.
English in Progress keeps English speakers up to date on the latest developments in the English language. Subscribers are mostly academics, English teachers, translators and writers.
Meer lezen? GA NAAR EEN WILLEKEURIG ARTIKEL
Disclaimer: deze site is geen woordenboek. Mijn vertalingen zijn de meningen van één mens, en mijn voorbeelden zijn zelfverzonnen. Meer weten? Kijk dan bij de veelgestelde vragen.
Bron foto: flickr.com/photos/keystricken, CC BY-SA 2.0