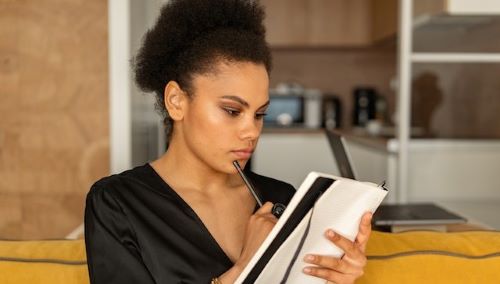 "Denk aan" is in het Nederlands een veelgebruikte term om een paar voorbeelden te noemen. In het Engels kun je "denk aan" in deze betekenis niet vertalen met "think of". Nu ja, het kan wel, maar het wordt niet vaak op die manier gebruikt en ik vrees dat je lezer of toehoorder erover zal struikelen.
Nederlands
Engels
In Amsterdam zijn veel musea, denk aan het Rijksmuseum, het Anne Frank huis en de NEMO.
There are many museums in Amsterdam, for example, …….

There are many museums in Amsterdam, such as …….

There are many museums in Amsterdam; there's …., and more!

There are many museums in Amsterdam, …… to name just a few!

Er is genoeg te doen in Breda, denk aan …
There's plenty to do in Breda, you could …
Je kunt vanalles doen om je ecologische voetafdruk te verkleinen, denk aan…
There's all kinds of things you can do to reduce your ecological footprint, you could consider…

Je kunt naar een ander land verhuizen, denk aan Noorwegen of Zweden.
You can move to another country like, say, Norway or Sweden.

Je kunt vanalles doen in de Efteling, denk aan….
You can do all kinds of things at theme park Efteling. ….., you name it!

Niet alle vampieren zijn slecht, denk bijvoorbeeld aan Vlad.
Not all vampires are bad, take Vlad, for example.

Deze vertaling liever niet
Sommige vertalers kiezen "consider" als vertaling. Dat is wel goed Engels, maar ik vind de betekenis net iets anders. Het Nederlandse "denk aan" is zijn letterlijke betekenis een beetje kwijt; de spreker wil niet écht dat je aan die drie musea gaat denken, hij wil gewoon wat voorbeelden noemen.
Het Engelse "consider" heeft net iets meer de betekenis van "ik ga drie opties noemen, en ik wil dat je over elke optie even nadenkt". Het is een klein verschil, en vaak is de vertaling gewoon oké, maar in mijn voorbeeldzin hierboven zou ik de vertaling "consider" raar vinden. Ik zou daar gewoon kiezen voor "for example".
Help je mee dit artikel te verbeteren?
Ik ben ook maar een mens, en soms heb ik iets mis. Weet jij een vertaling die ik nog niet had verzonnen, of heb je iets anders over dit artikel aan te merken? Ik hoor het heel graag! Laat het me hieronder weten, of stuur een mail naar info (a) hoezegjeinhetEngels.nl. Ik pas zo nodig mijn artikel aan, zodat bezoekers aan mijn site altijd de best mogelijke informatie krijgen!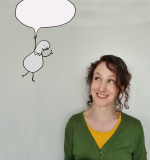 Heddwen Newton is an English teacher and a translator from Dutch into English. She has two email newsletters:
English and the Dutch is for Dutch speakers looking to improve their English, but also for near-native speakers who write, translate into, or teach English. Also interesting for people who like to compare Dutch-speaking culture to everybody else in the world.
English in Progress keeps English speakers up to date on the latest developments in the English language. Subscribers are mostly academics, English teachers, translators and writers.
Meer lezen? GA NAAR EEN WILLEKEURIG ARTIKEL
Disclaimer: deze site is geen woordenboek. Mijn vertalingen zijn de meningen van één mens, en mijn voorbeelden zijn zelfverzonnen. Meer weten? Kijk dan bij de veelgestelde vragen.
Bron foto: Mikhail Nilov, Pexels