In de taalkunde is een corpus een database aan teksten waarin je kunt zoeken. Zo heb je een Wikipediacorpus waar alle teksten van Wikipedia in staan. Huh, maar dat is dan toch gewoon Wikipedia? Zul je nu misschien zeggen. Het verschil is dat een taalkundig corpus op een andere – en voor taalkundigen betere – manier doorzoekbaar is.
Taalkundigen gebruiken een corpus om onderzoek te doen. Zo kijk ik regelmatig welke uitdrukkingen vaker gebruikt worden dan anderen, en vergelijk ik regionaal Engels om te weten of een bepaald woord bijvoorbeeld vooral in Amerika gebruikt wordt en haast niet in het Verenigd Koninkrijk. Bijvoorbeeld bij het Engelse woord voor toilettas.
Nederlanders die hun Engels willen verbeteren kunnen corpora (dat is de meervoudvorm van corpus) gebruiken om te kijken of een woordgroep natuurlijk klinkt of niet. Dat heb ik ook in dit artikel besproken.
Gepensioneerd professor Mark Davies heeft een fantastische collectie corpora online gezet, je vind ze hier. Helaas is de interface niet bepaald intuïtief. Als je een beetje rondklikt dan vind je wel veel instructies, maar je hebt wel even nodig om te snappen hoe het werkt. Meer iets voor onderzoekers.
Wil je een corpus dat wel makkelijk te doorzoeken is, dan kan ik het nieuwe Ludwig.guru aanraden. Die website is niet voor taalkundigen gemaakt, maar voor "normale mensen" (geef toe, taalkundigen zijn een beetje raar 😉 ) die graag hun Engels willen verbeteren.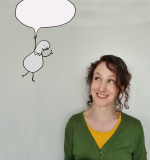 Heddwen Newton is an English teacher and a translator from Dutch into English. She thinks about languages way too much, for example about how strange it is that these little blurb things are written in the third person.

Heddwen has two passports, two children, two smartphones, two arms, two legs, and two email newsletters.

Reader feedback for the newsletter English and the Dutch, which examines all the ways Dutch speakers interact with the English language.
"It's funny, it's informative, I truly love it! Keep it up :)"
"It is amusing and funny but also educational. Bonus: it's about real life situations."
"Weer wat leuke dingen geleerd en erg gelachen om het filmpje!"
Reader feedback about the other newsletter, English in Progress, which is about how the English language is evolving and how it is spoken around the world:
"Wonderful work! I thoroughly enjoy these newsletters, and use some of the info while teaching English to my students."
"Love the variety, and the friendly informal tone!"
Also, academic Lynne Murphy, author of The Prodigal Tongue, about the differences between American and British English, recommended my newsletter in her newsletter. I was chuffed (BrE) and stoked (AmE)!
Meer lezen? GA NAAR EEN WILLEKEURIG ARTIKEL