Wat betekent de uitdrukking "brutalen hebben de halve wereld"?
Deze uitdrukking betekent dat het goed is om brutaal te zijn, en dus recht voor zijn raap te vragen wat je nodig hebt, of bijvoorbeeld gewoon ergens heen te gaan waar je eigenlijk niet mag gaan. De mensen die dat doen krijgen meer voorelkaar. (In dit scenario gaan we ervanuit dat er (veel) minder brutale mensen zijn dan de helft van de bevolking, want als 50% van de bevolking brutaal zou zijn, dan was de halve wereld hebben niet zo bijzonder!)
Wat is het probleem?
Geen groot probleem. De vertaling is "fortune favours the bold". (Amerikaanse spelling: favors). Deze vertaling is over het algemeen prima, maar "bold" is in dit geval meer iets als "moedig, onvervaard" en minder "brutaal" in de betekenis van "respectloos".
Wil je dat respectloze uitdrukken, dan zul je iets anders moeten verzinnen, zoals "well, there's advantages to being rude, I suppose" (let op: dit is geen bestaande uitdrukking in het Engels).
"Nothing ventured, nothing gained" (wie niet waagt, die niet wint) komt overigens ook in de buurt.
Help je mee dit artikel te verbeteren?
Ik ben ook maar een mens, en soms heb ik iets mis. Weet jij een vertaling die ik nog niet had verzonnen, of heb je iets anders over dit artikel aan te merken? Ik hoor het heel graag! Laat het me hieronder weten, of stuur een mail naar info (a) hoezegjeinhetEngels.nl. Ik pas zo nodig mijn artikel aan, zodat bezoekers aan mijn site altijd de best mogelijke informatie krijgen!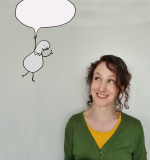 Heddwen Newton is an English teacher and a translator from Dutch into English. She has two email newsletters:
English and the Dutch is for Dutch speakers looking to improve their English, but also for near-native speakers who write, translate into, or teach English. Also interesting for people who like to compare Dutch-speaking culture to everybody else in the world.
English in Progress keeps English speakers up to date on the latest developments in the English language. Subscribers are mostly academics, English teachers, translators and writers.
Meer lezen? GA NAAR EEN WILLEKEURIG ARTIKEL
Disclaimer: deze site is geen woordenboek. Mijn vertalingen zijn de meningen van één mens, en mijn voorbeelden zijn zelfverzonnen. Meer weten? Kijk dan bij de veelgestelde vragen.