Miet Ooms, van Buurtaal, kwam op Twitter met dit pareltje gemixt Nederlands/Engels. In België blijkbaar een echte klassieker, maar ik kende hem nog niet.
De beste Engelse vertaling voor "badjas" is "bathrobe". Britten zeggen soms "dressing gown", maar dat klinkt voor andere Engelstaligen alsof je in een baljurk door je huis loopt. Amerikanen zeggen dan weer "housecoat" en dat klinkt voor mij als Britse weer alsof ze met hun jas aan in huis rondlopen. Gelukkig wordt "bathrobe" door iedereen goed begrepen.
Net als in het Nederlands kun je discussiëren of een badjas per se uit handdoekstof gemaakt moet zijn. Ik vind persoonlijk dat een "bathrobe" van handdoekstof is en een "robe" uit een andere warme stof bestaat, en dat je een "bathrobe" dus draagt om droog te worden en een "robe" om warm te blijven. Maar daar is zeker niet iedereen het mee eens. Ik heb eens bijna ruzie gekregen toen ik een badjas gebruikte als handdoek…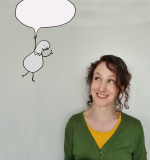 Heddwen Newton is an English teacher and a translator from Dutch into English. She has two email newsletters:
English and the Dutch is for Dutch speakers looking to improve their English, but also for near-native speakers who write, translate into, or teach English. Also interesting for people who like to compare Dutch-speaking culture to everybody else in the world.
English in Progress keeps English speakers up to date on the latest developments in the English language. Subscribers are mostly academics, English teachers, translators and writers.
Meer lezen? GA NAAR EEN WILLEKEURIG ARTIKEL
Disclaimer: deze site is geen woordenboek. Mijn vertalingen zijn de meningen van één mens, en mijn voorbeelden zijn zelfverzonnen. Meer weten? Kijk dan bij de veelgestelde vragen.
In bovenstaand artikel staan een of meerdere links naar Bol.com. Als je via deze links iets koopt dan verdien ik daar een klein beetje geld mee. Voor jou kost het niets extra; het is precies even duur als wanneer je direct naar Bol.com was gesurfd.