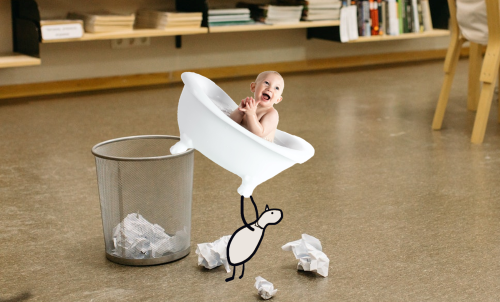 "De baby met het badwater weggooien" is in het Engels gewoon "to throw the baby out with the bathwater." ("bath water" mag ook twee woorden zijn)
Deze uitdrukking valt onder mijn categorie "idioot identiek idioom". Je denkt "dat kan toch niet hetzelfde zijn?", maar toch is het zo! In dit geval hebben het Nederlands en het Engels beide hetzelfde spreekwoord uit het Duits overgenomen.
Het Engels heeft overigens nog een alternatief, namelijk
Don't throw the champagne out with the cork
Wat betekent "de baby met het badwater weggooien"?
Als je de baby met het badwater weggooit, of het kind met het badwater weggooit, dan probeer je een situatie te verbeteren door iets te verwijderen, maar per ongeluk verwijder je ook datgene dat goed was.
Het is zonde om tegen die nieuwe wet te stemmen, alleen omdat je één klein detail niet goed vindt. De wet als geheel is belangrijk; we moeten niet het kind met het badwater weggooien.
Heb je een moeilijk te vertalen woord?
Is er een woord of uitdrukking waarvoor je geen goede Engelse vertaling kunt vinden? Laat het me weten op mijn contactpagina, en ik probeer zo snel mogelijk te reageren.
Dit artikel is op 13-03-2023 bijgewerkt. Ik heb een nieuw plaatje ingevoegd die ook dienst gaat doen als quizvraag in mijn nieuwsbrief.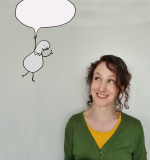 Heddwen Newton is an English teacher and a translator from Dutch into English. She has two email newsletters:
English and the Dutch is for Dutch speakers looking to improve their English, but also for near-native speakers who write, translate into, or teach English. Also interesting for people who like to compare Dutch-speaking culture to everybody else in the world.
English in Progress keeps English speakers up to date on the latest developments in the English language. Subscribers are mostly academics, English teachers, translators and writers.
Meer lezen? GA NAAR EEN WILLEKEURIG ARTIKEL
Disclaimer: deze site is geen woordenboek. Mijn vertalingen zijn de meningen van één mens, en mijn voorbeelden zijn zelfverzonnen. Meer weten? Kijk dan bij de veelgestelde vragen.
Bron foto: eigen werk, op basis van Henley Design Studio, Pexels en Yaroslav Shuraev, Pexels. Gebruiken mag, wel graag met verwijzing naar deze site