Er zijn heeeeeel veel van dit soort filmpjes, maar deze kwam laatst op mijn tijdlijn voorbij dus ik dacht: waarom niet.
Een grappig filmpje over Amerikaans en Brits Engels, gemaakt door Sam Morris. Ik zou naar zijn website linken, of naar zijn Twitter, alleen deze meneer maakt homoseksuele pornografie, blijkt, en al zijn officiële kanalen zijn heeeeeel erg nsfw. Google hem even als je het echt wilt weten, zou ik zeggen.
Ik wilde vooral weten of hij Brits was of Amerikaans, want beide accenten klinken alsof ze echt van hem zouden kunnen zijn (al zijn ze wel beide overdreven aangezet). Hij is Brits, zo blijkt.
Mijn site zou mijn site niet zijn als ik er geen extra informatie bij gaf dus hierbij een rijtje met de termen die hij bespreekt.
| | | |
| --- | --- | --- |
| Brits | Amerikaans | Nederlands |
| Pavement | Sidewalk | Stoep |
| Bin | Trash can | Vuilnisbak |
| Petrol | Gas | Benzine |
| Pushchair | Stroller | Buggy/ Wandelwagen |
| Pharmacy/Chemist | Drugstore | Apotheek/Drogist |
| Lift | Elevator | Lift |
| Jumper | Sweater | Trui |
| Autumn | Fall | Herfst |
| Aubergine | Eggplant | Aubergine |
| Aluminium | Aluminum | Aluminium |
| Progress (korte o) | Progress (lange o) | Voortgang |
| Crisps | Potato chips | Chips |
| Chips | French fries | Friet/patat |
Ken je nog zo'n filmpje?
Er zijn heel veel meer van dit soort filmpjes die op een grappige manier Brits en Amerikaans Engels vergelijken. Heb je een tip? Ik hoor het graag in de comments!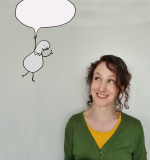 Heddwen Newton is an English teacher and a translator from Dutch into English. She has two email newsletters:
English and the Dutch is for Dutch speakers looking to improve their English, but also for near-native speakers who write, translate into, or teach English. Also interesting for people who like to compare Dutch-speaking culture to everybody else in the world.
English in Progress keeps English speakers up to date on the latest developments in the English language. Subscribers are mostly academics, English teachers, translators and writers.
Meer lezen? GA NAAR EEN WILLEKEURIG ARTIKEL