Wat betekent het?
Als je iets "afschuift" dan zorg je dat iets wat jouw verantwoordelijkheid/ werk/ schuld was op de schoot van een ander terecht komt. Iemand anders mag het oplossen.
Wat is het probleem?
Je kunt "iets afschuiven" prima naar het Engels vertalen, maar de vertaling is telkens anders afhankelijk van wát je afschuift. Zie hieronder:
Voorbeeldvertalingen "afschuiven"
Het was niet mijn bedoeling het werk op je af te schuiven, maar ik wist niet zeker wat er precies gedaan moest worden.
It wasn't my intention to pawn/palm the work off on you, but I didn't know what needed to be done exactly.

pawn off = Amerikaans Engels
palm off = Brits Engels
Voor internationaal Engels zou ik in dit geval de Britse variant kiezen, ik denk dat die het best begrepen wordt.
Hij schuift altijd de schuld naar een ander af.
He's always shifting the blame to someone else.
Zal ik mijn verantwoordelijkheid dan maar gewoon afschuiven?
So I should just blow off my responsibilities?
Jaja, schuif het werk maar op mij af…
Sure, lumber me with the work, why don't you…
Jaja, schuif de schuld maar op mij af…
Sure, shift the blame on me, why don't you….
Sure, tell everyone it was my fault, why don't you….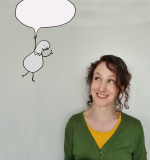 Heddwen Newton is vertaler en docent Engels. Naast hoezegjeinhetEngels.nl werkt ze sinds oktober 2022 aan "English in Progress", de Engelstalige versie van "Taalpost". Die bestond namelijk nog niet!
Disclaimer: deze site is geen woordenboek. Mijn vertalingen zijn de meningen van één mens, en mijn voorbeelden zijn zelfverzonnen. Meer weten? Kijk dan bij de veelgestelde vragen.