Wat betekent het?
Als je je aanstelt, dan ben je iets aan het overdrijven. Vaak kan dit kinderachtig overkomen. Iemand die kermend op de grond ligt terwijl hij alleen een schaafwond heeft, stelt zich aan.
Hoe vertaal je "zich aanstellen" het beste naar het Engels?
De beste vertaling is iets met "to be overdramatic" of "to be a drama queen".
Stel je niet zo aan!
Don't be such a drama queen! (kan ook voor mannen gebruikt worden)
Don't be so overdramatic!
Don't make such a big deal of it!
Misschien stel ik me aan hoor, maar ik heb zo'n last van mijn buren.
Perhaps it's just me being oversensitive, but my neighbours are really bothering me.
Perhaps I'm making too big a deal of things, but …
Misschien stel ik me aan hoor, maar ik ben zo bang dat ik ernstig ziek ben.
Perhaps it's just me being a hypochondriac, but I'm so worried I am seriously ill.
Perhaps I'm making a mountain out of a molehill, but …
Sonja is zo'n aanstelster. Laatst was ze weer aan het huilen om niets.
Sonja is such a drama queen. She was crying over nothing again the other day.

Heb je nog een andere goede vertaling voor "zich aanstellen"? Laat het me hieronder weten!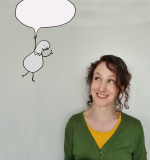 Heddwen Newton is vertaler en docent Engels. Naast hoezegjeinhetEngels.nl werkt ze sinds oktober 2022 aan "English in Progress", de Engelstalige versie van "Taalpost". Die bestond namelijk nog niet!
Disclaimer: deze site is geen woordenboek. Mijn vertalingen zijn de meningen van één mens, en mijn voorbeelden zijn zelfverzonnen. Meer weten? Kijk dan bij de veelgestelde vragen.